Silk faille jacket and skirt with appliqued bows. 2012 collection.
The Savannah College of Art and Design (SCAD) held the premier opening of the exhibit, "Oscar de la Renta: His Legendary World of Style" earlier this year. The exhibition was the first to celebrate the master of elegance and his work since his passing in October 2014.
This extraordinary exhibit is now at SCAD FASH in Atlanta through December 31st. If you love fashion and exemplary design and workmanship, this is a must-see exhibit.
Embroidered silk chiffon dress, Fall 2002
De la Renta's friendship with SCAD encompassed more than a decade. Designer, artist and cultural icon, de la Renta was recognized as the first recipient of the André Leon Talley Lifetime Achievement Award at the 2001 SCAD Fashion Show. The SCAD Museum of Art permanent collection features a number of the couturier's designs.
Embroidered silk evening dress, 2014 collection.
Over the years, de la Renta generously gave fabrics from his collections to the SCAD School of Fashion for student use, and many of the of the university's students also benefited from internship opportunities at de la Renta's New York atelier. SCAD President Paula Wallace stated: "Oscar took a personal interest in our students. They have learned from him, and SCAD is humbled to commemorate his love for our students with this resplendent exhibition. The 2012 SCAD MOA exhibition, "Little Black Dress," which traveled to Paris, also featured Oscar's work."
Below, some examples of daytime dresses, coats and suits:
But, of course, it was de la Renta's evening gowns that made his reputation. No fashionable woman would consider her wardrobe complete without at least one of his gowns. They showed up on socialists at museum galas, as well as on famous film stars at film events around the world. Some examples, below: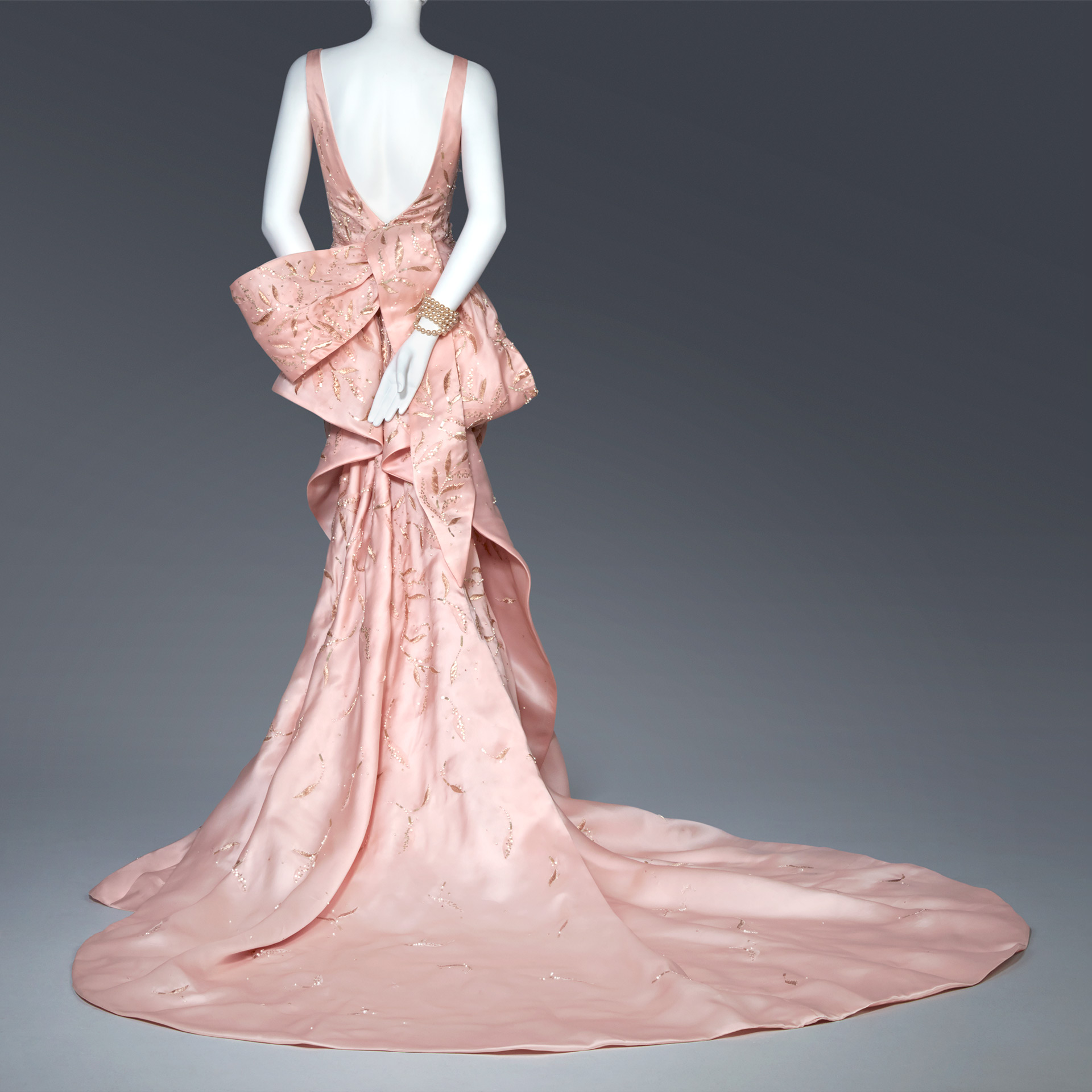 Worn by Taylor Swift at Metropolitan Museum o f Art Gala, 2014
.